Mortice Fencing is our most Premium Fence. All of the posts come as standard in a Larch or Douglas Fir Post. The Fence can come with either 2, 3, or 4 rails. They come in Tanalised White Deal. The Posts come in either 120mm x 120mm or 145mm x 145mm. We pressure treat all of our fencing timber with Osmoses Naturewood.
All of the posts are handcrafted in our Sawmill in Mohill, Co. Leitrim.
Contact us at 071 963 1040 or send us an email at sales@crowesawmills.ie for a quote.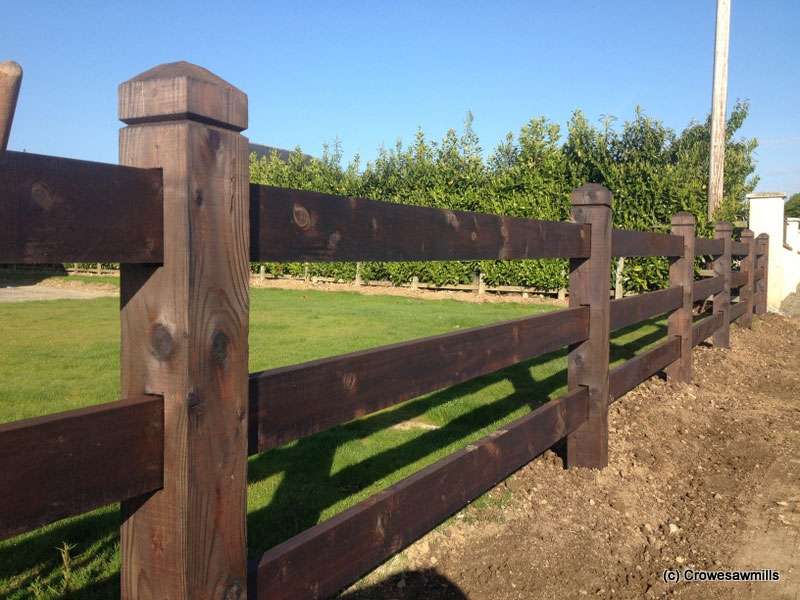 Posts:                                             Rails:
1.8m 120mm x 120mm                 4.8m 120mm x 42mm
1.8m 145mm x 145mm                 4.8m 145mm x 42mm
2.4m 120mm x 120mm
2.4m 145mm x 145mm
All Posts and Rails are Pressure Treated and Planed All Over.
N.B   Square Posts, ie  120mm x 120mm, 145mm x 145mm, 175mm x 175mm, will crack and split due to natural causes and weathering.  We cannot prevent this from happening unfortunately.  Timber being a natural product these cracks can appear, some posts can react different to others. The posts can crack and split due to the high temperatures from the sun.