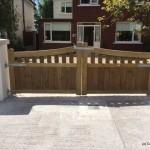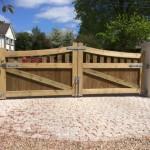 1 Pair of 1.8m timber gates x 1.2m at the high point hinge side. Pressure Treated. Customer sent us on these lovely pictures & this nice comment "
Hi Alan, sorry it has taken me so long to get around to sending you pics of the gate.
We are over the moon with it, the design and quality are more than we imagined. People walking past every day make a comment about the beautiful gates. Hopefully, you are getting a few jobs in Lucan.
Thanks again