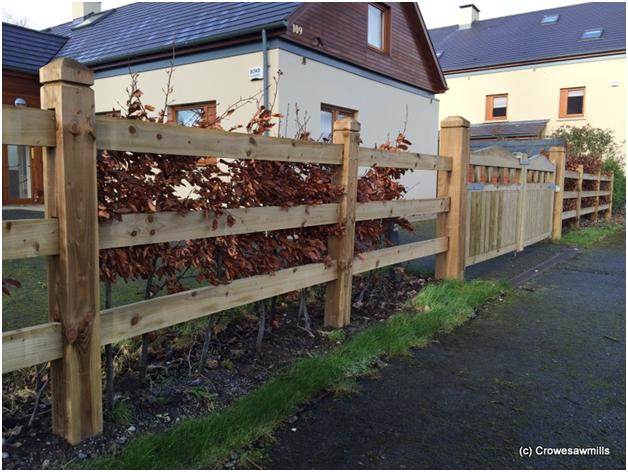 You may be interested in putting up a garden fence for a number of reasons, whether it's to embellish the appearance of your garden, clearly define a boundary, give your home more privacy, or any other purpose. Our garden fencing guide talks you through the considerations to take into account when choosing a fence, the different fence panel types and some useful tips on how to care for your fence so that it is well maintained for a long time to come.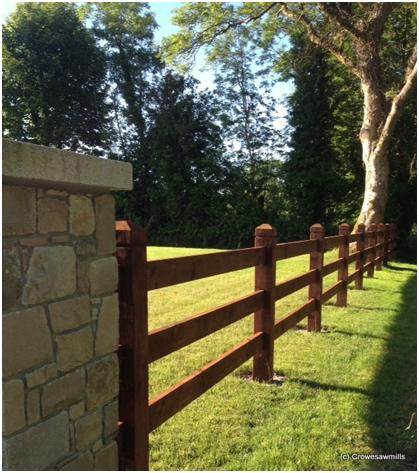 Why should I fence my garden?
Ask yourself what you want from your garden fence. Is it intended to serve a practical purpose, or is it purely for aesthetic value? Here are some of the more common reasons as to why you might opt for garden fencing.
Privacy: If you live in an open area with plenty of pedestrian and motorised traffic, you are quite likely to feel self-conscious over the level of privacy that you have in your home. Erecting a fence will prevent any overly curious or downright nosy neighbours or passers-by from having free rein to gaze in at your property. It also enables you to clearly mark the boundaries of your property where there may be a certain level of ambiguity.
Security: Garden fencing not only gives you a greater sense of privacy; it can also offer you peace of mind psychologically, as well as a physical barrier to unwanted animal intrusion. Fencing off your garden should keep out the neighbours' cats and dogs, as well as any stray animals that might otherwise wander onto your property. On a more sinister level, tall fencing could also protect your property from would-be burglars that could have been planning to gain unsolicited entry.
Appearance: Even if your property is relatively private and free of animal or human intrusion, you might simply feel that putting up a fence will embellish your garden's appearance. If this is your main reason for wanting a garden fence, you'll have greater scope to choose fencing you like than if you needed a specific type of fencing to fulfil a particular function.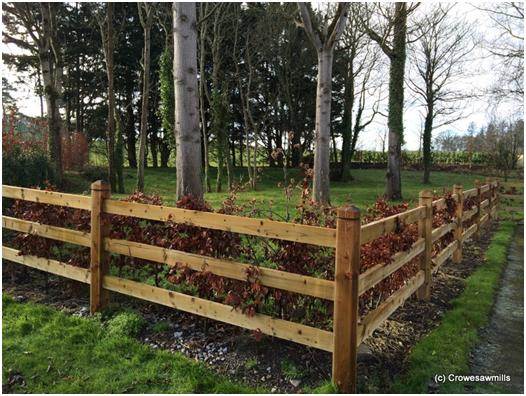 Considerations for choosing garden fences
Material: What look are you hoping to achieve with your garden fencing? If you want to allow for versatility, or you're after a 'country' look, wood fences are best suited to your wishes.
Colour: You might find that the natural appearance of wood is just fine for your garden fence. However, the beauty of a timber fence is that it provides you with scope to coat it in pretty much any colour you want. White or dark green is good for a traditional look, a subtle green gives it a classy appearance, and bolder colours like red or orange add a touch of distinction to your garden fencing.
Shape: Again, the range of shapes in which garden fencing is available means that you'll almost certainly find one to correspond to what you're after. A simple straight line works fine if your fence is purely or predominantly for practical reasons. If you want it to be more artistic, geometric shapes and lines refine its appearance nicely. A combination of style and simplicity is also popular and can even make the artistic fence shapes stand out all the more when interspersed amongst the neutrality of straight lines.
Location: Where exactly is your fence going and how much do you need? While many will choose to fence their entire garden, others might simply want fencing for a specific area within the garden.
Size: The size of your garden fencing can be dependent upon both its location and its primary function. If you're looking to fence the whole garden to give yourself extra privacy, you'll need tall fencing to guard against prying eyes. On the other hand, if you simply want to fence a smaller area chiefly for aesthetic reasons, a smaller, more refined fence would be more suitable. Also, timber fencing is ideal for smaller gardens, as it requires less space than other boundary enclosures such as hedges and stone walls.
Note: The maximum permissible height for a garden fence in Ireland is 2 metres, or 1.2 metres for a fence 'within or bounding any garden or other space of a house', as set out by Class 5, Part 1 of Schedule 2 of the Planning and Development Regulations 2001.
Choose the right fence panel type to suit your needs
When making a decision about your fence panels, you need to take into account considerations such as budget, its purpose, the time required for the job and how easy it will be to maintain the fence in the long-term. The most common types of fence panels are discussed below with an outline of their primary characteristics.
Picket fences: Picket fence panels are excellent for adding aesthetic value to your garden and clearly marking a boundary to define your property. They are quite easy to install and will prevent pets and small children from exiting, although at a standard height of one metre, they don't offer optimum privacy.
Picket fences can be identified by neat, evenly-spaced vertical boards which are commonly placed around the outer edges of your garden. They are most commonly coated in white, but of course you can alter this to a colour of your choice at a later stage. They suit front gardens ideally, given their restrictive height and elegant appearance. They can also be used on a smaller scale in back gardens as a neat border for a seating area such as a patio.
Closeboard fences: Closeboard (also known as featherboard) fence panels offer great protection and privacy due to their sturdiness and their standard height of 1.8 metres (6 feet). They are usually found in rear gardens, as their height exceeds the regulations set out for front aspect garden fencing. Panels are formed with overlapping vertical boards set at a slight angle.
If you decide to opt for closeboard panels, you will also need to purchase specialised notched posts to support the horizontal arris rails to which the vertical boards are nailed. While it is costlier than picket fencing, it is great for adding privacy to your space and will also provide firm protection once it is cared for adequately.
Lap panel fences: Lap panel fences are commonly found in back gardens and, at a 6-foot height, greatly enhance the privacy of your home. They are inexpensive to purchase and very easy to install, slotting in almost effortlessly between wooden or concrete panels.
Although they provide an excellent cost-effective option, it is worth noting that they are not as durable or attractive as closeboard fences of a similar height. They need to be raised from the ground slightly, or fitted on top of gravel boards, so that the panels don't rot at the bottom. They also require strong protection to guard against rot, warping or splitting, particularly in very hot or wet conditions.
Hit and miss: Deriving its name from the method of construction, hit and miss fencing is made from two layers of boards (can be either vertical or horizontal) where each layer is offset from the other. It gives an impressive-looking streamlined appearance and its dual layer structure also offers extra sturdiness against strong winds.
Trellis: Trellis is a brilliant compromise option for those who are struggling to make a final decision on their timber fencing. They can add height to existing fencing for extra privacy while still allowing for plenty of light to enter your garden. Alternatively, trellis can be affixed to the front of the fence in order to support for climbing plants which give it a fresh appearance. It's one of those wonderfully versatile options that can be used just the way you would like it.
Another huge benefit of trellis is the security it can provide. A trellis panel at ground level can conceal valuable items such as patio furniture and garden equipment, particularly if plants have been affixed to it, while trellis at the top of a fence makes unauthorised entry more difficult – any prospective burglars trying to climb it won't succeed as it wouldn't take their body weight. Plus, the sound of the trellis breaking in this case would alert your attention and possibly enable you to identify the burglar.
Composite fence panels: Composite fencing is becoming increasingly popular due to its no-maintenance quality. Composite fence panels are very sturdy and do not need anywhere close to the same care as other fence panel types. They are splinter-resistant and can even last for as long as 20 years, as well as being available in a variety of shapes and sizes. The one drawback is that it is more expensive than the alternatives, but if you're happy to pay for quality and you have the budget for it, you'll be hard pressed to do better.
Decorative fence panels: As the name would suggest, these are fence panels that can be customised to a specific appearance of your choice, such as a medieval-style finish or a classy curved crown. The one predictable caveat is that such embellishments will cost more than most other fence panel types.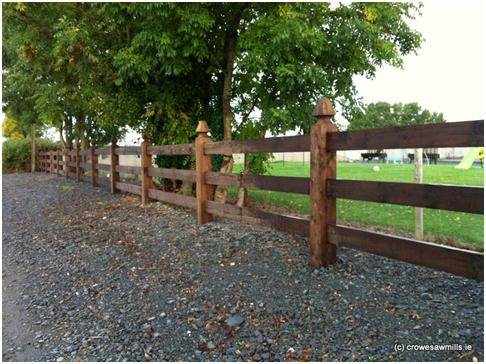 Fence care tips to keep your fence in top shape for years
To prepare and clean your fence:
Pre-treat bare or untreated fences with a suitable wood preserver to prevent it from rotting and decaying.
Ensure that your fence is dry and dirt-free. Clean off any dirt, debris or cobwebs with a stiff brush and warm water. If you have stubborn stains, you'll probably need a power washer to eradicate them.
Remove algae, fungi and moss with a suitable fungicidal wash.
Fences that have previously been stained, painted or varnished should be stripped back to bare wood. Use a wire brush to remove any flaking or peeling paint.
Sand down any splintered areas and refasten any panels that are loose.
To protect and revive your fence:
Always use a fit-for-purpose wood stain instead of generic paint when coating fences.
Only coat your fence when the temperature is 5°C or higher and if bad weather is not forecast. Damp, cold conditions are not ideal for fence care.
Test the wood stain on a small area first to see how well it applies to the fence.
If you are using more than one can of wood stain, mix them together in a large container so that the results are consistent throughout the entire fence.
After you have finished coating the fence, clean the paintbrush with a cloth, wash it with water (ideally from a hose as the pressure will remove a good portion of remaining wood stain) and leave it to steep in a carton of water and methylated spirits.
This video offers some very useful fence care tips and demonstrates how to clean and stain your fence.
Fence painting tips
If you like the colour of your fence as it is but still feel that it needs to be coated, you can apply a clear wood preservative which will protect the timber adequately while also maintaining the colour you desire.
If your fence hasn't yet been erected, you can apply the treatment to the timber beforehand. This will make it easier to cover the entire surface, as corners can be difficult to cover, especially with wider brushes.
Fence sprayers can do a very good job of covering the fence in a handy, near-effortless manner.
Go with the grain of the timber when coating a fence and work from top to bottom. Ensure to brush forwards and backwards so that the treatment is applied evenly.