Our family company was established in Mohill, Co.Leitrim more than a Century ago in 1907, and our aim is to build and maintain on our long established standards. We aim to provide high quality timber, fencing products, and equestrian products to our customers in an efficient and friendly way.
Our core business is sawmilling with the production of native saw and timber. We are based in Mohill County Leitrim and we deliver nationwide. All our timber is kiln dried and pressure treated with Osmoses Naturewood. We are stocking large amounts of fencing products such as mortice posts, rails,gate posts,fence boards and fence panels. We manufacture all our own gates which are made from the highest standard of timber. All our gates can be made to suit customer requirements. Call us now on 07196 31040.

We are increasingly diversifying into value added products and special orders tailored to your requirements. Bespoke orders are arranged all the time by our experienced staff. Our aim is to provide to you with a friendly and efficient service at very competitive prices. So call us today.
---
1. Log Yard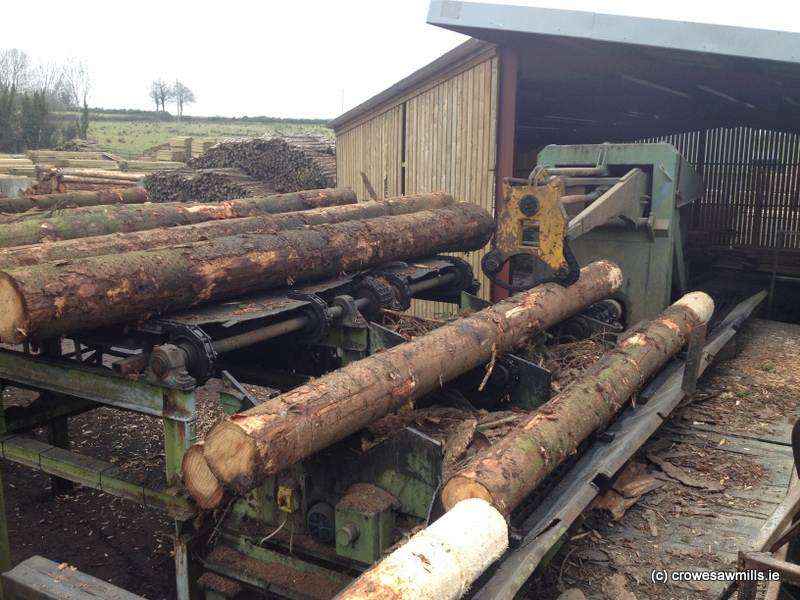 We produce 90% of all our products from logs.  All our logs are purchased from the State Forestry Board Coillte Teo.
All logs that we process are FSC certified.  As demonstrated in picture our logs come in from the forest pre-cut lengths, e.g. 3.7m, 4.3m,4.8m,5.5m,6.1m & 6.7m.  We only saw large sawlog that is mature, at least 30 years old.
2. Debarking/Butt End Reducing
We debark all our logs before they enter the mill so as to have a nice clean log going through production.  The main reason for debarking logs is to take the bark off the trees so as any dirt or stones that are on logs won't destroy the sawblades.  Timber being extracted from the forest can get quite dirty with the soil, stones and grit and hence destroy a sawblade.
Butt end reducing, reduces the butt end of the log to leave the log nice and uniform for the sawmill.
3.  Sawmill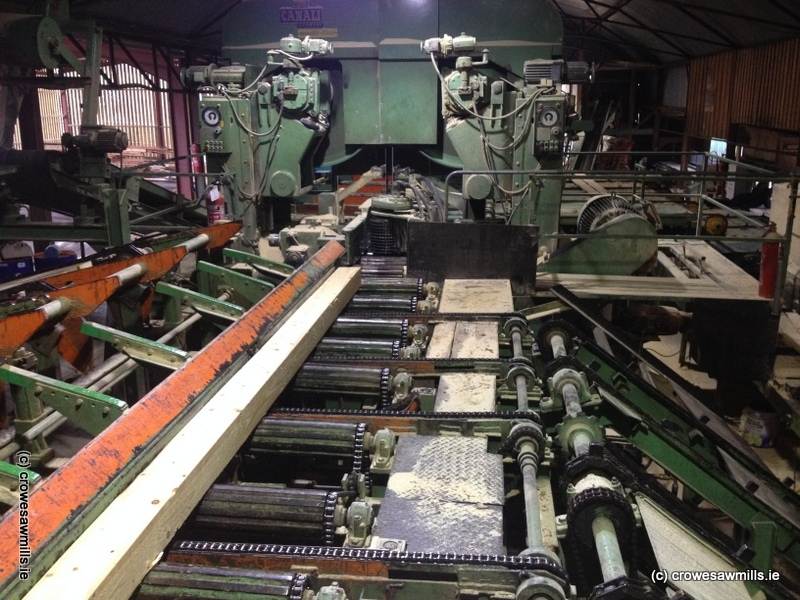 We have our own Sawmill and therefore can produce most sizes that are required from, fencing products, structural timber, Douglas Fir and Larch beams.  At this stage we break down the log to a square piece of timber, e.g a fence post 1.8m   150 x 75 or a fence rail  4.8m    100 x 44.
4.  Finishing Workshop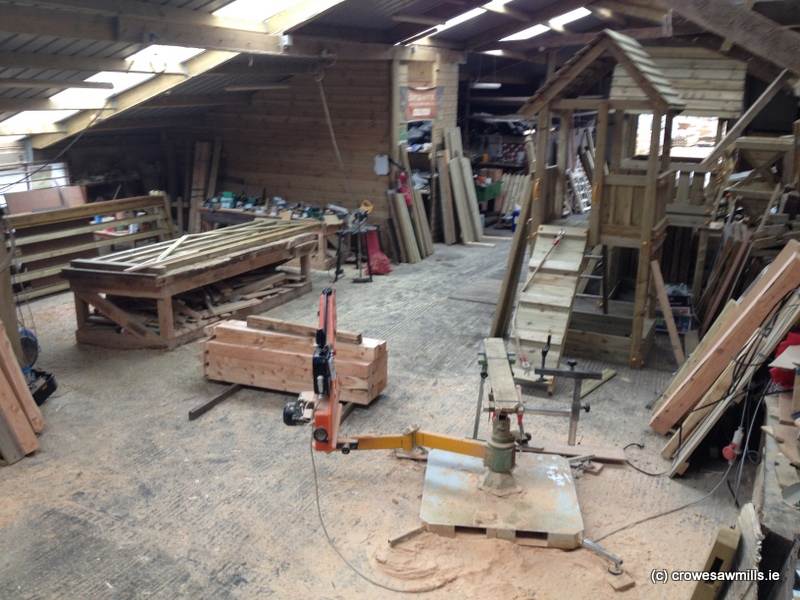 This is where we do the shaping of posts to the style you require, ie Diamond Top, Special Top or the Post Head.
We manufacture all our gates, stable doors and garden equipment in here.  We also design new products in here, this year 2015 we have introduced 'Blue Rabbit Crowe's Play Equipment'.  So all our carpentry and finishing takes place here.
5. Kiln Drying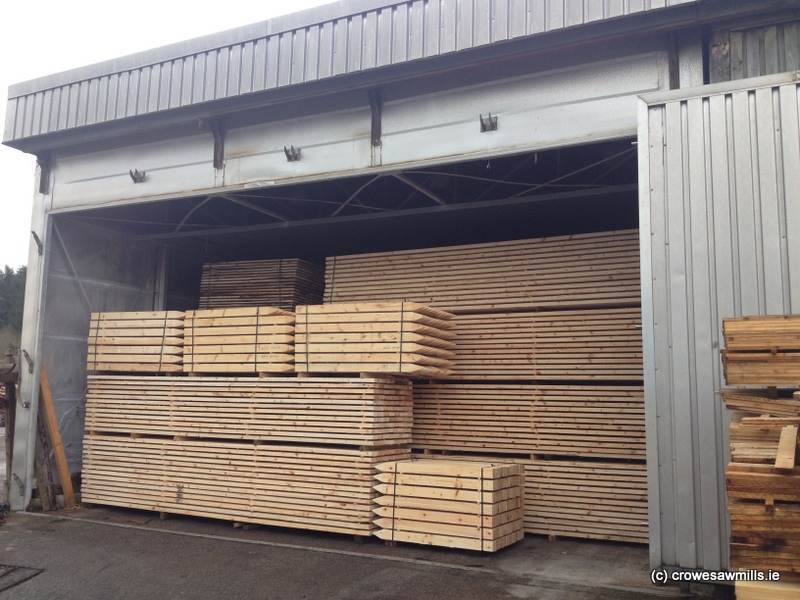 We have our own Drying Kiln facility for drying the timber, posts, rails, construction timber and gateposts are all Kiln dried prior to treatment.
6. Timber Treatment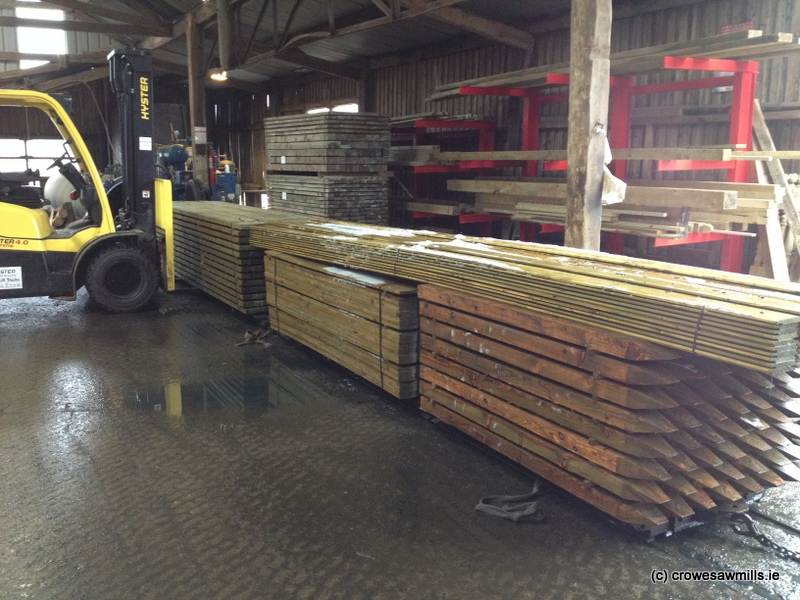 We pressure treat all our Fencing Timber in our own treatment plant.  We use Coppers Naturewood concentrate.
You can see the treated timber in the picture just after being treated.
7. Customer Sales/After Sales Service
Alan Crowe and Eilish Cooke look after customer sales.
8. Delivery Nationwide
We have our own jeep and trailer for delivery. We hire in haulage as well.
With delivery a charge will apply so please ask for rates.
9. Fitting the timber fencing.
We have teams of fencing contractors fitting fencing all the time so we are happy to recommend and pass on their details to you.